Welcome to eye spy my ride
Welcome to our new concept in horse transportation. We offer a service that has nothing to hide and will allow you to follow your horse all the way through their journey in real time. We operate an Oakley built forward facing 9 horsebox, mounted on a Topline Scania, supported by Scania Lifeline which gives you peace of mind knowing that your horse is travelling in the 'most sought after horsebox' mounted on the 'King of the road'.
The idea is that we will involve you in the planning of your horses trip right from our first conversation with you. For instance on the longer trips abroad; How long each day they will travel, where they will be stabled etc. We want to be completely open and honest about our service, giving you the opportunity to access our vehicle tracking system (on request)and so being able to monitor your horses journey.
We are also in the process of adding to this a live streaming facility enabling you to watch your horse on the move!
Our staff are fully qualified, highly experienced drivers and grooms, having worked with British and European Team members to the highest possible standards. Excellent references are of course available.
We offer all other services needed for the World wide shipment of horses including ferry bookings, export licences, health paperwork and journey planning. If you have your own truck, we can help you to plan realistic travel days, stabling and through our large network of UK and European transport colleagues, can be there for you throughout your journey if you need us.
Our aim is to offer a bespoke tailor made service specializing in door to door transportation of your horses, but we can also offer shared loads upon request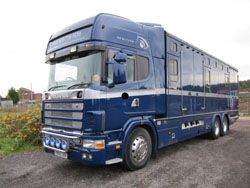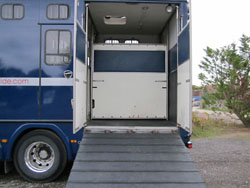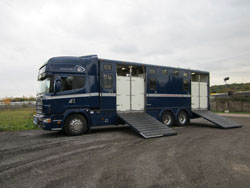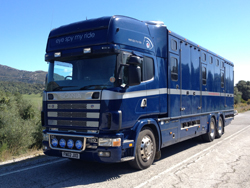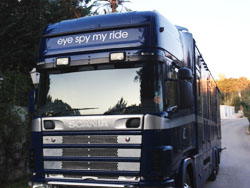 Our Services

Truck Features

Ferry and Eurotunnel bookings
Veterinary documentation arranged
Import/Export documentation arranged
Access to stabling world wide
Pre/Post Import quarantines if required
Customs clearance
Cross border documentation

Vehicle tracking system
CCTV
Live on-line temperature monitoring
Air suspension
Adjustable stalls and partitions
Mare and foal boxes
Non-slip rubber flooring
Fans and ventilation
Experienced and trustworthy handlers/drivers
Computerised journey print-out, details of any stops/ ramp openings during trip.
Type 2 Authorisation
Licensed also to carry unregistered horses and ponies
News
In October this year, our truck went to Oakley's for a refurbishment inside and we are now able to 'tube' all the horses. This means that each horse can have their own separate area, fully self contained which minimizes the risk of injury significantly. There is no risk of horses catching each others legs as the partitions are to the floor. They can still see each other through purpose built steel cages and don't need to be crossed tied necessarily which is perfect for the youngsters who may never have been tied up.
This now gives us the full range of transport possibilities suiting each and every one of our equine clients needs.
---
EyeSypMyRide loading the Finnish horses, leaving trainer Kyra Kyrklund's stable for London 2012 Olympics: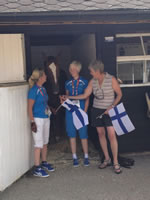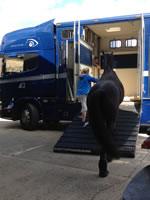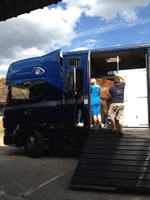 EyeSpyMyRide were delighted to transport the Swedish Dressage Team Horses to the London 2012 Olympics: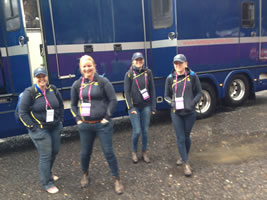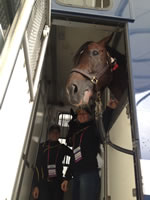 Get a Quote
To get a quote, please email info@eyespymyride.com call our office on +44 7884 293267.
Tracking
For your tracking information visit Seven Telematics.
Terms And Conditions
View our terms and conditions here